Safe Storage with Social Distancing
If you are buying, selling or renovating your home our self storage solution is the answer to any of your self storage needs. We can guarantee physical distancing with our self storage system. This is so important during the Covid 19 epidemic in order to stop the spread of the virus and protect our loved ones from infection. By keeping our distance, you protect me and I protect you.
Keep your Distance to stay Safe, StorageBox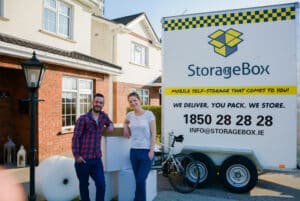 Use Self Storage & Removals safely from your own home
Advantages of StorageBox
By using a mobile storage unit that is delivered to your door, there is no need to use a man with van service or a removals company. This will cut out any unnecessary interaction with someone that is not in your household. This cuts out risk to you and your family.
The problem with drive up self storage, is that you will need to go into physical space that is not in your control. At StorageBox we bring the self storage solution to your door. Hence you do not need to leave the comfort and safety of your own home to use our service. We have 3 different sizes to pick from and when the StorageBox arrives at your door, you can load it at your own pace.
Another advantage of our system of self storage is the risk that comes when you hire a van. By not hiring a van, you are not exposing yourself to the last customers who hired that van. If it wasn't cleaned properly, if they had the corona virus, there is a strong possibility you could get it from touching the surfaces of the van. When taking your goods back home that could carry the virus inside from being in contact with the inside of that van. Plus all your items will be loaded into the van, not once but twice! With our system of self storage your workload is reduced not just by half but by 2/3rds! You pack once and unpack once. Your StorageBox becomes your van, storage unit and removals all included in one. Why would you go to a drive up storage center ever again!
Corona Virus & StorageBox
The advice from the WHO is to avoid unnecessary travel. By using one of our StorageBoxes, you cut out the traveling over and back to a drive up storage center. Bringing items in your car is slow and laborious.
A large StorageBox can take the contents of a standard 3 bedroom house. It makes more sense to use a mobile service to cut out numbers of journeys and ease of work than a drive up storage center.
Since the start of the epidemic, we have changed our working procedures to protect you our customer and our staff. We no longer use physical paperwork upon delivery of your StorageBox self storage unit. All of our paperwork and payments are done online. Again, this distance keeps you safe and us safe!
When your goods arrive at our secure warehouse, your storage unit is taken out either by forklift or conveyor.
None of the contents are physically touched. With drive up self storage, everything has to be handled many, many times. Our warehouse is locked, alarmed and monitored unless we are physically there dropping or collecting a StorageBox. Therefore you have the peace of mind in knowing that your goods are safe and sound.  They are handled only by you and no third party.
For safe, secure self storage that you can use from your own home, please contact us today for a quote and we can explain how are services can work for you.