See how your Business can benefit with StorageBox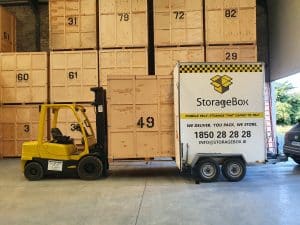 Adaptable Self Storage
StorageBoxes are portable Self Storage Pods which can be placed in any normal parking space. You will be able to load the unit conveniently at the location where you need to make space. You can keep the unit on site, move it to our storage centre, or we can move it to a new location; at a time and pace that suits you.
Scalable Storage Solution
With different sized storage units, we have a solution for any business that needs self storage. We can deliver multiple storage units, at the same time or on a phased basis. With StorageBoxes unique system of combining removals and storage in one simple service, we are a one stop shop when you need extra space. You can mix and match to make our self storage system work for you. We have plenty of space so you don't need to!
End to End Self Storage
Traditional Self Storage can leave you hanging. Their system will require a method of getting your goods from A to B. They may recommend a removals company or Man with Van Service. With StorageBox, the whole process is completed with no outside help required. Whether it is clearing space to meet social distancing requirements, a renovation project, or creating extra storage space on site quickly, we have a A to B logistics and self storage solution for your business.
Business Self Storage Solution
You have peace of mind knowing your valuable goods are safe when stored in a secure StorageBox. Additionally, StorageBox storage units are portable, we can deliver them to your location, keep it at our Storage Centre or even keep it at your site for as long as needed. With 3 sizes to pick from and discounts of at least 20% on multiple units we have a solution for your business.
PalletBox (small van size 1m2)
Standard StorageBox (large van size 8m2)
Large StorageBox (truck size 16m2)