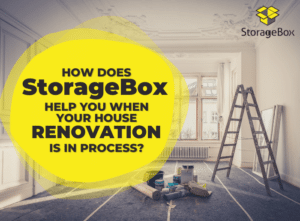 Renovating your house can surely be an exciting activity. You can, gradually and eventually, see all your disordered elements of construction and decor, fall into their ideal place of perfection. Also, revamping your property can enhance its worth and look, further transforming it into the paradise of your dreams.  
Now, during the respective task, owners have to sacrifice their privacy and expose their homes to contractors, crew members, and other workers, who work during the mentioned process. 
Thus, to make room and get the work done, it is necessary to move out your personal belongings as they can get damaged due to dust, debris (and many more of such factors).
Therefore, the question of prime importance, during this process, is whether where can you store your belongings, on a budget, for contractors to work without any obstructions?

Here comes the role of rented storage space that can effortlessly help you with your needs. 
However, before diving into the benefits, let us first discuss the advantages of the same:
What are Portable Storage Boxes?
Storage Units come in many sizes. These are steel-framed, multiple-layering, weather-proof boxes, which can be left out of the house for long periods, during the moving process/ for transport, or even for stocking purposes.
They have a security system (in which locks can be added externally too) for additional protection.  
These space storage boxes come in various sizes (as per the requirement of the users). The least sized moving storage box offered by most companies typically clutch onto a room and half of the furniture – or the equivalent of a small furnished apartment. Similarly, large units can hold onto three to four bedrooms' worth of furniture. Depending on the sizes offered, you may have to rent more than one self storage box to stock all of your belongings.
Benefits of using StorageBox:
Affordable Storage Space
The process of renovation can take a few days or even a few weeks. A storage unit is economical as it does not impose any loading, unloading, or transportation charges. Various companies offer daily, weekly or monthly plans as per the requirement of the client. These pocket-friendly schemes give a sense of relief to the users as they are not forced to be under any specific long-term agreements. They need to pay solely for the box that they're using.
Flexible Self Storage
During the renovation process, the house becomes a doorway to strangers, moving to and fro for various activities. Keeping your goods in one place makes it easy to pack and unpack whenever you want. It saves your time and opposes storing your materials in your friend's or relative's place as you may disturb their schedule, throughout the execution of the process or even at the time when you're ready to move in your things.
Utilize The Self Storage Solutions You Always Wanted
A portable storage box gives you ample amount of space, you require during the entire task of renovation. By storing your possessions in a storage unit, you create an area for work without causing any damage to your property. If the required amount of space is given to the workers, you can get great results as well. There will be no hindrances for the workers working in the house, and they'll get a smooth working environment too.
Climate Safe
When storing your valuables, one point must strike in everyone's mind: What if their material gets damaged due to climatic conditions? To tackle this, companies provide boxes that are climate-proof. Thus, even when your unit, which might be full of your precious stuff, will be kept outside in the blazing sun or a thunderstorm, storage boxes will keep your valuables safe and sound.
Secure Storage Facilities
The complexities of renovation keep you occupied, stressing you about the safety of your belongings. 
On-site storage boxes are the new big thing in the market. These portable storage units are delivered to your desired location. Once delivered, you can pack your belongings as per your requirements, as per your plan. These containers can be placed in your parking lot, porch area, in front of your house (or any other place) for convenient access. Once you're okay with emptying the box, the company staff will come and collect it, as per the time and schedule decided by you. These boxes are climate-proof and have a great storage capacity with a sturdy body that beautifully safeguard your belongings.
Conclusion:
Portable storage units for your home renovation can, indeed, help you concentrate more on the actual project. Thus, keep your things close to you, even during the process of remodeling/ revamping of your house, with a StorageBox!
We, at StorageBox, deliver storage facilities in Dublin & surrounding areas as per your requirement right to your doorstep, so you don't have to worry about your precious belongings.
With pocket-friendly schemes, we make your storing experience smooth.

And, if you have any more questions, please get in touch with our friendly team info@storagebox.ie or call on 1850282828, right now!