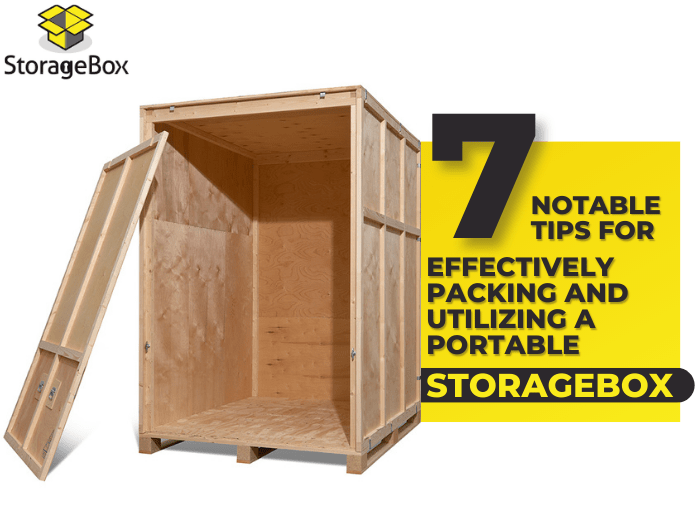 Portable StorageBox
Well, portable storage boxes have remarkably transformed the entire process of moving and storing our belongings. These containers have, quite indeed, effected the purpose of being exceptionally functional, by notably melding two significant factors into a single thread, that is, convenience and practicality.
Now, in order to, work efficiently and become more organized, we must know how to properly pack, secure and structure the entire space of these storage units.
So, how can we effectively use our boxes for storage units?
Following are a few vital tips that can surely help you utilize your storage box units, pretty efficaciously:
(1) Plan It Out and Pack Your Boxes Properly
No! No! No! This is not the process of disposing of your party mess, people. So, do not just throw your stuff into random boxes.
Plan it all out. You must be quite sure of what you are packing and what boxes you are placing those items in. Pack heavier items in small boxes, for easier lifting, and lighter items in large boxes. Make use of even the small gaps and eensy spaces of each box, but please be sure, not to overload them. Also, use as many same-size boxes as possible. This will make stacking, much more manageable.
(2) Weight Matters: Distribute It Evenly

While loading your storage box, do ensure to distribute the weight, quite evenly, whether it is back to front or side to side. Refrain from piling all the hefty objects first. Why? This can create instability as the weight distribution will be uneven throughout the unit. Thus, for obtaining uniform distribution, arrange your furniture, your appliances, your fur clothing or any of your other heavy items throughout the storage mobile unit.
(3) Wall to Wall: Quite Literally, Huh?

Placing all the objects along the floor, as the bottom layer of the container can surely be a riveting option, but the prudent solution for effectively utilizing your rented storage space is by stacking all your items in a vertical layout. This arrangement can gift you several pathways to walk throughout the unit, without having to step over any of your packed boxes.
Now, you must pack from ceiling to floor and from back to front of the container. Mattresses and carpets can be ordered around the outside edges of the unit. Remember: Whilst the unit is moving from one location to another, these strong wall-like layers can even prevent objects from shifting and falling.
(4) Handle With Care: Wrap Fragile Items Properly

A storage box unit can very well secure all your belongings, but rough roads can inflict several probabilities of repositioning a few items during transportation. Thus, some items, specifically fragile ones, could get damaged during the process of loading and unloading.
Hence, it is always a good idea to take extra precautions while packing fragile items. Therefore, bubble wraps all your electronics, Chinese ceramics, and glass items. You can even cushion these items with your clothing, pillows, and newspaper.
(5) What Is More Important? Prioritize Your Needs

You must have items that you couldn't live without. Everybody does! And, therefore, you need to give them their due importance by placing them right in front, where you can easily access them.
Essentials such as cooking supplies, towels, linens, and toiletries, are all good stock to pack towards the front of the container. You can, indeed, get to them quickly and effortlessly.
(6) Fill In That Void!
No! We are not talking about your love life. We are asking you to consider and fill in the small voids and spaces, to get the most out of your storage units. Small objects, and soft items (such as bags of clothing) can, quite gracefully, fill in the gaps in your storage box. This act can ensure stability and prevent items from shifting during transportation.
(7) Disassemble Your Furniture

Take your furniture apart (the ones that you can, of course!). This strategy can help in making more space in the mobile storage, also and eventually, reducing the odds of your furniture getting damaged during the process of packing, unloading, and transportation.
Note: You must not put everything in a portable storage space. Flammables, cleaning products, food, and ammunition should never be stored inside a storage unit. Not solely that! You must keep your valuables with you. Your heirlooms, legal documents, and other important paper,, must assuredly be with you.
Conclusion:

Thus, if you certainly and effectively want to utilize your rented storage space and gain the true value for money, you must, most definitely, adhere to each of the aforementioned helpful tips.
And, if you are moving or home staging or even remodelling your abode, and require such portable storage facilities in Dublin, you can contact StorageBox. We provide affordable and hassle-free storage box containers that can, without a doubt, ease your life!
So, what is the wait for? Visit www.storagebox.ie right now!
If you have any queries related Portable Storage then feel free to ask & for more updates Check our Facebook & Instagram Page.